Water resistant woods: this is what you should know
When looking for the most befitting stain for your outdoor (or indoor) wood project, several factors need to be considered. There are two main stain types according to their bases- oil-based stain & water-based stain; and in specific conditions, one is practically better than the other. Depending on the type of wood, any previous wood treatment & weather exposure, both these types of stains offer different levels of coverage & protection. Here are some properties of both the the stain types to guide your decision:
- The water-based stain is breathable, does not emit harmful fumes or odors, is not flammable, dries quickly, retains its color for a longer period of time, offers a richer hue of color, is extremely resistant to mildew and mold, and is easier to clean requiring only soap and water; while
- the oil-based stain needs more time to dry that allows for a more even finish, penetrates wood deeper, requires less for long-term maintenance, is extremely durable and offers a thicker seal for wood. 
The type of wood also plays a key role in deciding the right stain. For example, when coating a wood with natural resistance to rotting, it is better to use a water-based stain. Examples of this kind of wood are cypress, cedar & redwood. 
Similarly, previous wood treatment is a crucial factor to arrive upon the correct stain. If the wood to be stained bears a previous coating of stain/ paint, care should be taken to ensure a new, even protective layer. It may be difficult to ascertain the previous layer,  but knowing it will undoubtedly help in choosing the apt stain. If the previous layer is oil-based, opting for a water-based stain now is advisable as the latter will adhere better as compared to an oil-based one.   
The kind of weather the wood will be exposed to is also significant in determining the best stain-base. If the wood element is going to have a direct exposure to rain, wind & sunlight, an oil-based stain is the best option. This is because it is more durable than a water-based stain, and will impart a much better protective cover against these weather conditions.
Interior spaces like bathrooms & kitchens are also in constant contact with varying levels of high moisture, especially bathrooms. And so, staining the floors & other wooden surfaces becomes important in these spaces too. In this image, the stained pine floor looks natural even in the monochrome design.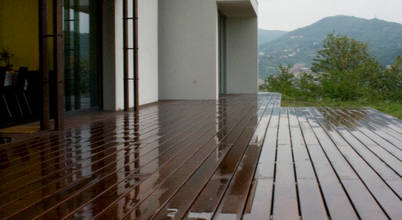 Video of Water resistant woods: this is what you should know
Tags: Water Resistant Woods: This Is What You Should Know
Water Resistant Woods: This Is What You Should Know
What To Know When Buying Laminate Flooring
3 Ways To Waterproof Wood
Pressure Treated Wood For Raised Beds?
Moisture Resistant Laminate Best Water Resistant Wood
Recommended Use: Understanding The Durability Of Your
Your Guide To Water-Resistant Greenboard Drywall
How Do I Correctly Install Ceramic Floor
Top 5 Water Resistance And Waterproof Flooring Options
What You Should Know About Concrete Fire Resistance
IPX Rating System: What It Means And Why You Should Know
Cost To Frame, Insulate And Drywall Basement?
Pet Friendly Flooring
Best Flooring Best Wood Flooring Best Scratch Resistant
Kitchen Flooring Options Best Laminate Flooring 100
Scratch Resistant Flooring Moisture Resistant Flooring
Infographic: Ten Things You Should Know About Water How
Three Reasons Why You Should Use Water-Resistant Laminate
What Are The Advantages Of A Cedar Deck? (with Picture
Waterproof Laminate Wood Flooring Water Resistant Hardwood
Caulking Tips
Watch Water Resistance Levels: What You Should Know
Wood
Wet Area Flooring Flooring Options Water Resistant Wood
5 Types Of Wood Glue: What To Know & How To Use Them
From Wood Siding : Buffalo Lumber
Can You Really Be Successful Without Being Coachable
What Students Need To Know
The GQ Guide To Watches Photos
Cabinets, Fireplace, Drawers, And
Learn Everything About Plywood
Best Choosing A Wooden Sink
Laminate Or Vinyl Plank?
RESISTANT MATERIALS REVISION Materials Woods, Plastics And
How To Build A Solid, Frost-Proof Deck Footing
Understanding Fascia And Soffit Repair
Choosing Durable Rubber Laminate Flooring
Slab Leak Detection And Repair Tips
Why Bamboo Laminate Flooring Is A Preferred Choice?
Sewage Emergency: Thunder Bay Flooding
Why You Should Choose Laminate
Difference Between Wood Rot, Dry Rot And Termite Damage
Hendrik Verwoerd Quote: "Blacks Should Never Be Shown The
Water Resistant Vs Waterproof: Everything You Should Know
What Can Cause Tap Water To Smell Bad? (with Pictures
Seven Survival Keys That Every Hunter Should Know
Vehicle Everyday Carry Loadout
IP Or IPX Waterproof & Dustproof Rating
Gautama Buddha Quote: Pain In Life Is Inevitable But
Teak Shower Caddies: Naturally Water-Resistant Wood
Laminate Plank Flooring Luxury Vinyl Plank Reviews Water
Where Does The Wood Come From?
DECK STAIN: Why Most People Mess Up Their Deck Big-Time
What Are The Pros And Cons Of Medium-density
Want To Care For Your Woods? Struggling To Get Started
What You Should Know About Recreational Water Illnesses